Come "shake it off" naturally at our upcoming 
Four Week
Tension & Trauma Releasing Exercises  Workshop & Process Group
at hōm
Beginning Thursday, October 22nd – Thursday November 12th 2020
TRE is a revolutionary technique in trauma healing and stress reduction. This practice involves a series of 7 simple exercises designed to help the body naturally induce a neurogenetic process called neurogenic tremoring. It is a gentle and profound practice that facilitates the lengthening and relaxation of the psoas muscle and the release of emotional stress and tension.
This four week, experiential workshop & process group, will allow you to experience TRE and give you a foundation for understanding the body's tremoring response and how it helps to release stress, tension, and trauma patterns that we store in our body. By committing to this four week process group, you are also helping to create a safe and supportive environment for all who choose to attend.
Reported benefits of TRE include:
– Release of chronic stress and tension
– Discharge emotional and physical trauma
– Increase energy
– Improve sleep and mood
– Decrease aches and pains
– Decrease symptoms of fibromyalgia and sciatica
– Increase mobility
This workshop will be led, in-person, by Staisha Grosch, who is a certified Neurogenic Yoga and TRE provider.
This series has been structured to help the practitioner better understand the manifestations of trauma and stress and how they live in the body.
During the first week we will go over the causes of stress and trauma, how the effects of stress and trauma manifest in the body, and we will establish a deeper understanding of the nervous system and the role it plays in how we experience and process traumatic or stressful situations. Participants will also have an opportunity to practice TRE and experience self-induced neurogenic tremoring. On the first Thursday we will meet from 6pm – 8:30pm.
The following three weeks we will meet on Thursdays from 6:30pm – 8pm for TRE practice followed by the opportunity to connect with others in the group around your shared experience with this process during a relaxed, open discussion period. This will be a chance to understand, on an even deeper level, how the tremoring process works.
By committing to four weeks we are giving ourselves a real opportunity to truly experience how this practice can begin to create noticeable changes in the way we feel and move through the world, and when you complete the four weeks you will be much more confident in your ability to practice on your own – in your home – if you choose!
What this Four week workshop and process group includes:
– 7+ hours of in-person, guidance and support from a certified TRE and Neurogenic Yoga provider
– 4 TRE group sessions with plenty of opportunity for Q&A to help better understand this process
– A workbook and practice tracker to take notes of what you experienced during each session
– For attending this workshop and process group, you will also have the opportunity to purchase a one-to-one TRE or Neurogenic Yoga session at 25% off of the usual cost, for either you, a friend, a loved one, or anyone else who you think might benefit! (*great holiday gift idea)
– Anyone who completes the 4 weeks will automatically be eligible to attend 5 follow-up drop-in TRE classes at a special "hōmies" rate of $15 a class. (These classes are limited to 6 participants at a time and require prior TRE experience to attend)
– At the end of the 4 weeks everyone will receive a certificate of completion and a "Keep Calm & Shake It Off" shirt.
The cost to attend this four week workshop & process group is $165 and it will be limited to 8 participants in order to safely practice according to COVID-19 best practices guidelines. Keeping the group small will also ensure that everyone gets the individualized support and attention they need.
Because this is an in-person event we will be engaging in safe practices to ensure the well-being of all in attendance. Temperatures will be taken upon arrival each week and we ask that everyone practice physical distancing and arrive wearing a mask. The facilities are sanitized frequently throughout the day, and there is hand sanitizer available for regular use in several areas throughout the space.
IMPORTANT NOTE: The workshop does not certify anyone in attendance to teach TRE nor does it count towards CEU's. If you are pregnant or think you might be pregnant we ask that you refrain from practicing until your doctor or healthcare provider says it's safe for you to do so.
More about the instructor for this workshop:
Staisha Grosch – Licensed PTA, CYT-500, Neurogenic yoga and TRE provider, rehabilitative pilates specialist, craniosacral therapist
Staisha comes from an extensive movement background and years of experience working with people of all ages and physical capabilities in a therapeutic setting. Her empathetic nature, relatable style, sense of humor, and vast knowledge of the body lends itself to safe and effective movement practices in a nurturing environment. Staisha integrates her personal investigation and experiences through movement with her education in mindfulness practices, modern treatment modalities, and various other somatically focused techniques, to help each individual reconnect with their body.
/
by Staisha Grosch
https://homsouthflorida.com/wp-content/uploads/2019/06/HOM_logo_color_no_tag-300x160.png
0
0
Staisha Grosch
https://homsouthflorida.com/wp-content/uploads/2019/06/HOM_logo_color_no_tag-300x160.png
Staisha Grosch
2020-09-18 03:22:16
2020-09-18 23:41:30
New Workshop Coming Soon...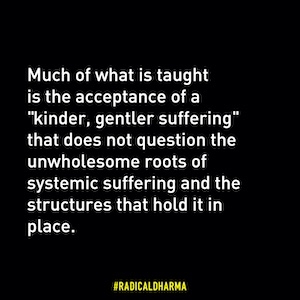 Hey hōmies!
For anyone who's interested in joining our virtual book group, we will be meeting Tuesday evenings, beginning July 7th, from 5:30-6:30 pm EST.
The book we will be exploring together is Radical Dharma; Talking Race, Love, & Liberation co-authored by Rev angel Kyodo williams, Lama Rod Owens, & Jasmine Syedulah, PhD.
If you would like more information on the book, including where to purchase it, you can visit radicaldharma.org
More details about this virtual, group offering can be found on our schedule page under the event heading "Radical Dharma; Talking Race, Love, & Liberation." There you will find updates to what chapters we will be reading for that coming week – so we can all stay "on the same page" – and a link to join our virtual gathering via zoom.
We look forward to seeing you all! Please continue to stay safe and  stay connected!
/
by Staisha Grosch
https://homsouthflorida.com/wp-content/uploads/2019/06/HOM_logo_color_no_tag-300x160.png
0
0
Staisha Grosch
https://homsouthflorida.com/wp-content/uploads/2019/06/HOM_logo_color_no_tag-300x160.png
Staisha Grosch
2020-07-13 19:39:01
2020-09-19 23:08:18
Radical Dharma Book Group
We will be offering small group classes and one-to-one, in-person sessions …
To our hōmies,

As you may know, we have gotten the green light to re-open. We will begin offering small group classes and one-to-one sessions beginning on June 15th. At first, we will limit the classes we are offering in-person to TRE on Tuesday evenings (7:15 – 8:15 pm) and Neurogenic Yoga on Thursdays (5 – 6:15 pm). These groups will be limited to 6 participants at a time in order to maintain a safe distance and individualized attention. Pre-registration is required and can be done through our website on our schedule page: https://homsouthflorida.com/class-schedule/ 

In addition to these two classes, we will also be available for one-to-one, in-person sessions (as well as over zoom). If you are interested in working with Chaim or Staisha on an individual basis (in-person or online) please contact us at: 954-683-7071 or email [email protected]. You can learn more about the different types of individual support we each offer by visiting the "About" page on our website.

Because we realize that many of you are still hesitant to attend group classes, and we wish for you all to stay connected, we will continue to meet for our other offerings (e)face-to-face, via zoom, until further notice.

How we are reopening:

We will be following the CDC's recommended guidelines to keep our hōmies safe.

In addition, we are taking the following precautions:
Contact free check-in process via registration through the website
Everyone who chooses to come to the center will have their temperature taken before entering the building
Heightened, deep-cleaning measures throughout the day, evening, and between classes
All equipment (whether used or not) will be cleaned and sanitized after each class
High touch surfaces will be disinfected before and after people arrive for classes
We encourage anyone who would feel more comfortable doing so to wear a mask or facial covering – although it is not a requirement at this time. We will kindly ask that you wash/sanitize your hands upon entering the center and most importantly, if you are not feeling well, please stay home. Additionally, if you have recently been to a protest or any other large, group gathering we ask that you consider the recommended 14 days of self-quarantine before participating in group classes at the center.
We will continue to carefully monitor the situation and keep you updated. The most important thing as we begin to gradually offer classes in-person is that we do so in a safe environment.
If you have specific questions not addressed here please reach out to us.
We look forward to seeing you all (virtually or in-person),
Staisha, Chaim, & Boris
We Look Forward to Your Presence!
Additional helpful details:
There is parking across the street from the center as well as available parking spots directly in front of hōm.
At this time, we highly recommend that you bring your own yoga mat to class.
Please arrive on time or plan to come at least 10 minutes early to orient to the space and settle in before class begins.
/
by Staisha Grosch
https://homsouthflorida.com/wp-content/uploads/2019/06/HOM_logo_color_no_tag-300x160.png
0
0
Staisha Grosch
https://homsouthflorida.com/wp-content/uploads/2019/06/HOM_logo_color_no_tag-300x160.png
Staisha Grosch
2020-06-13 02:28:01
2020-09-19 22:55:19
Schedule Update
Sign Up For Our Newsletter